From the desk of the World President of Women's Ministries – Commissioner Silvia Cox
August 2014
The Lord will watch over your coming and going both now and for evermore. Psalm 121:8
Comings and Goings
On the 3 of August 2013, suddenly our life changed. Many will agree with me that life is often full of surprises, some good and some less good!
In our case, the joy of travelling the world, discovering what God is doing, having great fellowship with our Salvationist family, and preaching the word, is now very much a part of our daily routine. At the same time, we find that the sense of responsibility and urgency as well as our total dependence on God has increased.
The challenges but also the opportunities are greater than ever before as is our ability to influence some of the strategic priorities of The Salvation Army are certainly more real, which can sometimes be quite a daunting prospect!
What has not changed is our calling, our relationship with God, the joy of serving the Lord. However the fact that we have experienced God' s presence in our own life and in our family, in the past and in the present gives us the certainty that God will be with us in the future too.
So for all of you, who are facing changes, know that God is the same, yesterday, today and forevermore! Remember what the Lord has done in your life, and look with confidence to the future.
BIBLE STUDY
Loved - Patience
Therefore, as God's chosen people, holy and dearly loved, clothe yourselves with compassion,kindness, humility, gentleness and patience. Bear with each other and forgive whatever grievances you may have against one another. Forgive as the Lord forgave you. And over all these virtues put on love, which binds them all together in perfect unity (Colossians 3:12-14).
Read More (pdf download)
Focus on the Zones
Around the Salvation Army world women are engaging with women and sharing the Gospel of Jesus Christ. Often this is through modelling Christ like relationships. Read more about how God is at work in this world as people engage in his word, are encouraged and flourish.
The International Salvation Army is administered in five Zones – Africa, Americas & Caribbean, Europe, South Asia (SASIA) and South Pacific & East Asia Zone (SPEA).
Find out more stories of women from around the world working in community, building relationships and seeking relationship with God.
Africa
Kenya West Territory - Junior Home League Congress
Read More (pdf download)
by Commissioner Jolene Hodder
TPWM Kenya West Territory
Congo Brazzaville Territory - Summary of Women's Rally Report
by Lieut. Colonel Arschette Moukoko
TSWM Congo Brazzaville Territory
Catching the Joy
Read More (pdf download)
by Gail Fleeman
Europe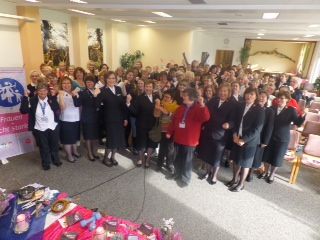 Report on Women's Weekend - Germany & Lithuania Territory
Read More (pdf download)
South Pacific & East Asia
Habitat for Humanity - New Zealand, Fiji & Tonga Territory
Read More (pdf download)
Memories of Tacloban
Read More (pdf download)
by Lieut-Colonel Edna Willams
South Asia
Home League Rally Report - India South Western Territory
Read More (pdf download)
by Commissioner Bimla Charan
TPWM India South Western Territory
About Women's Ministries
The ideal basic unit of society is the home and family, where women play a vital and definitive role. Furthermore, as natural providers of hope, women play an important part in shaping society. Therefore any fellowship of women in which Christian influence is exerted and practical help given benefits not only the individual and the family, but also the nation.
Women's Ministries provide a programme of meetings and other activities based on the fourfold aims of the Army's international women's organisation, the Home League, which was inaugurated in 1907. The aims are worship, education, fellowship and service.
The mission of Women's Ministries is to:
bring women into a knowledge of Jesus Christ
encourage their full potential in influencing family, friends and community
equip them for growth in personal understanding and life skills
address issues which affect women and their families in the world
Indeed, the motto of the Home League is: 'I will live a pure life in my house ...' (Psalm 101:2b, Good News Bible).