From the desk of the World President of Women's Ministries – Commissioner Silvia Cox
April 2014
"Whoever is ashamed of me and my words, the Son of Man will be ashamed of him when he comes in his glory." Luke 9:26
As we have travelled, I have found that something which is common to all the countries we have visited, are the inspiring testimonies of people who have experienced lasting transformation as they have encountered the Risen Christ. In our last trips to Pakistan, Nigeria and Clearwater (USA), we heard testimonies about lives that have been transformed resulting in among other things deliverance from drug, alcohol addiction through the power of Jesus. We have also heard inspiring accounts of how God has and is answering prayers for healing, for work related challenges, for impossible situations, for protection, for travelling mercies.
What has been hugely encouraging is to see that people are standing firm in their faith even when confronted with persecution.
I heard the story of one young adult woman living in a country where Christians are in a significant minority, who was told by her parents not to wear the cross as a necklace, as it would make her life easier at university. The young woman decided that she will keep wearing her cross as she is not afraid to be recognised as a disciple of Jesus. I salute the courage and faith of all those young women who are faithful witnesses and chose not to deny their God and master no matter what the personal cost may be.

BIBLE STUDY
Loved - Show Compassion
Bible reading Luke 7:11-17
When the Lord saw her, his heart overflowed with compassion. 'Don't cry!' he said.

Read More (pdf download)
Focus on the Zones
Around the Salvation Army world women are engaging with women and sharing the Gospel of Jesus Christ. Often this is through modelling Christ like relationships. Read more about how God is at work in this world as people engage in his word, are encouraged and flourish.
The International Salvation Army is administered in five Zones – Africa, Americas & Caribbean, Europe, South Asia (SASIA) and South Pacific & East Asia Zone (SPEA).
Find out more stories of women from around the world working in community, building relationships and seeking relationship with God.
Africa
Kenya West Territory - Junior Home League Congress
Read More (pdf download)
by Commissioner Jolene Hodder
TPWM Kenya West Territory
Congo Brazzaville Territory - Summary of Women's Rally Report
by Lieut. Colonel Arschette Moukoko
TSWM Congo Brazzaville Territory
Catching the Joy
Read More (pdf download)
by Gail Fleeman
Europe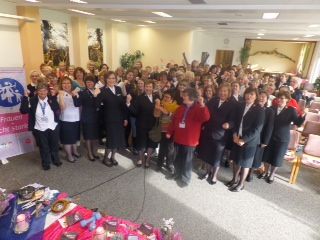 Report on Women's Weekend - Germany & Lithuania Territory
Read More (pdf download)
South Pacific & East Asia
Habitat for Humanity - New Zealand, Fiji & Tonga Territory
Read More (pdf download)
Memories of Tacloban
by Lieut-Colonel Edna Willams
Read More (pdf download)
South Asia
Women Officer's Retreat - Sri Lanka Territory
Read More (pdf download)
About Women's Ministries
The ideal basic unit of society is the home and family, where women play a vital and definitive role. Furthermore, as natural providers of hope, women play an important part in shaping society. Therefore any fellowship of women in which Christian influence is exerted and practical help given benefits not only the individual and the family, but also the nation.
Women's Ministries provide a programme of meetings and other activities based on the fourfold aims of the Army's international women's organisation, the Home League, which was inaugurated in 1907. The aims are worship, education, fellowship and service.
The mission of Women's Ministries is to:
bring women into a knowledge of Jesus Christ
encourage their full potential in influencing family, friends and community
equip them for growth in personal understanding and life skills
address issues which affect women and their families in the world
Indeed, the motto of the Home League is: 'I will live a pure life in my house ...' (Psalm 101:2b, Good News Bible).