From the desk of the World President of Women's Ministries – Commissioner Silvia Cox
March 2014
"Continue to remember … those who are ill-treated as if you yourselves were suffering."
(Hebrews 13:3).NIV
Coming back from a visit to the Zambian Territory in February, our hearts were full of thanksgiving and joy for the wonderful people we were able to meet. Our programme included meetings for men, youth, women, officers, soldiers and a visit to an old people's home.
On the Saturday, as we were waiting for the women's rally to start, a TV crew came and asked for and interview. One of their questions was about domestic violence; an issue which is relevant in Zambia and which we know is also a problem in other countries.
I was really saddened by their question, as my heart goes out to all the women who have to suffer violence from their partner. Nothing can justify such treatment. Many women are never appreciated for all their hard work. Unfortunately, often Christian women keep silence and even feel guilty.
The Bible clearly condemns all violence. We also must condemn violence. I pray that the Women Ministries departments and especially the Home League will be a place of peace and of friendship for all women, where those issues are discussed and help, prayer support and solutions are found. No woman should live in fear in her own house. Do not forget: You are loved by God and He wants you to be safe.

BIBLE STUDY
You are loved – as God's Chosen People
Therefore, as God's chosen people, holy and dearly loved, clothe yourselves with compassion, kindness, humility, gentleness and patience. Bear with each other and forgive whatever grievances you may have against one another. Forgive as the Lord forgave you. And over all these virtues put on love, which binds them all together in perfect unity (Colossians 3:12-14).
Read More (pdf download)
Focus on the Zones
Around the Salvation Army world women are engaging with women and sharing the Gospel of Jesus Christ. Often this is through modelling Christ like relationships. Read more about how God is at work in this world as people engage in his word, are encouraged and flourish.
The International Salvation Army is administered in five Zones – Africa, Americas & Caribbean, Europe, South Asia (SASIA) and South Pacific & East Asia Zone (SPEA).
Find out more stories of women from around the world working in community, building relationships and seeking relationship with God.
Africa
Kenya West Territory - Junior Home League Congress
Read More (pdf download)
by Commissioner Jolene Hodder
TPWM Kenya West Territory
Congo Brazzaville Territory - Summary of Women's Rally Report
by Lieut. Colonel Arschette Moukoko
TSWM Congo Brazzaville Territory
Catching the Joy
Read More (pdf download)
by Gail Fleeman
Europe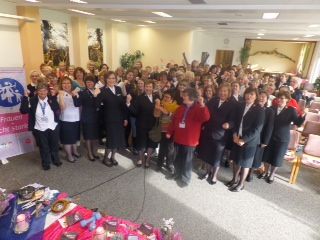 Report on Women's Weekend - Germany & Lithuania Territory
Read More (pdf download)
South Pacific & East Asia
Habitat for Humanity - New Zealand, Fiji & Tonga Territory
Read More (pdf download)
Memories of Tacloban
by Lieut-Colonel Edna Willams
Read More (pdf download)
South Asia
Home League Rally - India South Eastern Territory
by Commissioner Susamma James (abridged)
TPWM India South Eastern Territory
Read More (pdf download)
About Women's Ministries
The ideal basic unit of society is the home and family, where women play a vital and definitive role. Furthermore, as natural providers of hope, women play an important part in shaping society. Therefore any fellowship of women in which Christian influence is exerted and practical help given benefits not only the individual and the family, but also the nation.
Women's Ministries provide a programme of meetings and other activities based on the fourfold aims of the Army's international women's organisation, the Home League, which was inaugurated in 1907. The aims are worship, education, fellowship and service.
The mission of Women's Ministries is to:
bring women into a knowledge of Jesus Christ
encourage their full potential in influencing family, friends and community
equip them for growth in personal understanding and life skills
address issues which affect women and their families in the world
Indeed, the motto of the Home League is: 'I will live a pure life in my house ...' (Psalm 101:2b, Good News Bible).