First Friday show previews May 9 Transformed Treasures auction
30 April 2015
Transformed Treasures events May 1 and May 9 2015.
Letter lends support to Medicaid Expansion
18 April 2015
The Salvation Army Alaska has taken a stand in support of Medicaid Expansion in Alaska.
Clitheroe alumnus offers current clients his story--and hope
06 April 2015
Years after treatment for drug addiction, Clitheroe Center alum Kelvin Lee returns to inspire others.
Salvation Army gathers in Juneau for cherished tradition
16 March 2015
The Salvation Army Alaska's annual Congress is a uniquely Alaskan event dating to 1918.
In Alaska, working with others to help those fleeing domestic violence
10 March 2015
A campaign from South Africa reminds us domestic violence is a worldwide problem; how it impacts The Salvation Army Alaska's services and programs.
Free crisis training to build awareness, capacity for statewide Emergency Disaster Services
03 March 2015
Organizers hope free CISM crisis training will help build statewide emergency response team size, awareness.
McKinnell House family featured in KTUU documentary
27 February 2015
The story of former McKinnell House residents was featured on a 1-hour KTUU documentary on homelessness in Anchorage.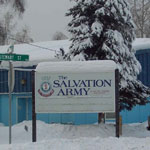 Mission Moment: Salvation Army's history in Fairbanks spans six decades
09 January 2015
The Salvation Army has served Fairbanks, Alaska, since 1950.
Annual Neighborhood GIFT prepares to serve 5,000 area families Dec. 15-16
15 December 2014
GIFT is a collaboration between The Salvation Army, Food Bank of Alaska, Lutheran Social Services of Alaska, Toys for Tots and others.
The Salvation Army works with Samaritan's Purse, Food Bank of Alaska to send turkeys to Tuluksak
27 November 2014
The Salvation Army Alaska today helped fly out 40 turkeys to Tuluksak -- just in time for Thanksgiving.
Previous - Showing page 2 of 6 - Next