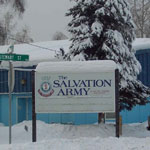 Mission Moment: Salvation Army's history in Fairbanks spans six decades
09 January 2015
The Salvation Army has served Fairbanks, Alaska, since 1950.
Annual Neighborhood GIFT prepares to serve 5,000 area families Dec. 15-16
15 December 2014
GIFT is a collaboration between The Salvation Army, Food Bank of Alaska, Lutheran Social Services of Alaska, Toys for Tots and others.
The Salvation Army works with Samaritan's Purse, Food Bank of Alaska to send turkeys to Tuluksak
27 November 2014
The Salvation Army Alaska today helped fly out 40 turkeys to Tuluksak -- just in time for Thanksgiving.
Video: Single Dad Found Refuge at McKinnell
17 November 2014
On the brink of almost losing his children eight years ago, Bunnalim Nou is now a successful business owner who helps others.
12 Days of Caring is back to benefit 24 Alaska families
13 November 2014
Kendall Auto Gives Back Again in 2014 with 12 Days of Caring
Season of Giving 2014 luncheon a success
11 November 2014
The Salvation Army Alaska's outreach to devastated community Ouzinkie after the 1964 quake made longtime supporters of this year's honorary hosts.
Statewide Thanksgiving plans, needs vary by community
17 October 2014
Thanksgiving 2014 plans statewide recently announced by The Salvation Army Alaska range from turkeys and fixings--to heating fuel.
Alaska's EDS Director Recognized Nationally for Galena Work
31 May 2014 | Author: Sonya Senkowsky
EDS Director Jenni Ragland was recognized nationally this May for her Emergency and Disaster Services work in Galena.
Media Release May 12, 2014: National Salvation Army Week 2014
12 May 2014
The Salvation Army kicks off its 61st annual National Salvation Army Week today...
"Apron strings and heart strings" Juneau Empire by Lt. Dana Walters
11 May 2014
"Apron strings and heart strings" Juneau Empire by Lt. Dana Walters
Previous - Showing page 2 of 6 - Next