Home

/

Children's Services
Children's Services
"Let the little children come to me and do not hinder them,
for the kingdom of heaven belongs to such as these." (Matthew 19:14)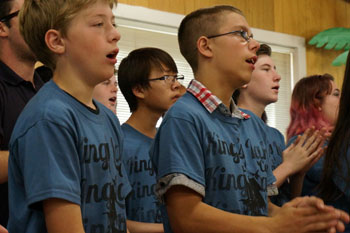 The Salvation Army has a long history of providing services that support individuals of all ages, including children. Investing in this most precious resource is a vital part of our ministry in Alaska.
Our programs provide children with wonderful opportunities through after-school clubs, a music program and summer camp programs like The Salvation Army King's Lake Camp.
Additionally, Salvation Army troop programs help children and teens mature into confident adults by offering positive character-building activities in our Corps Community Centers throughout the state.
[Top: Captain Diana Gomes and friend, McKinnell House. Photo for The Salvation Army by Juan Lopez, 2014.
Bottom: Children at King's Lake enjoy music camp, summer 2014.]